Illegal French airstrikes hit stadium, museum, clinics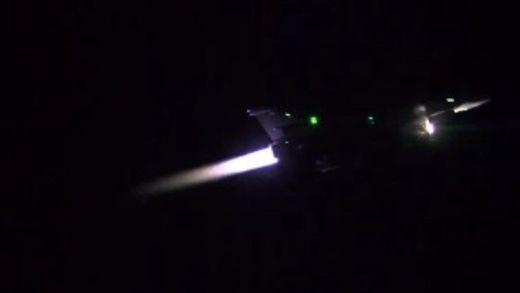 Anti-ISIS activists in Syria claim a stadium, a museum, medical clinics and a political building have been hit after France launched airstrikes in retaliation for the Paris terror attack.
Raqqa Is Being Slaughtered Silently, a group of anonymous activists inside the ISIS stronghold, wrote that heavy strikes had been taking place since this morning. The group began documenting the airstrikes at around 8am and said it had increased to "30 airstrikes" this evening. No civilian casualties have been reported yet, according to the group.
A spokesperson for the group suggested it was France who were behind the bombs. They said water and electricity was cut due to the strikes. They added: "It's sad how it always falls on our heads, god bless and safe [sic] the civilians of Raqqa."
France retaliated to the Paris terror attack by launching deadly airstrikes on an Islamic State jihadi training camp in Syria tonight. Yesterday French president Francois Hollande vowed to crush the extremist group who massacred 129 people on Friday night. Less than 24 hours later, some 10 fighter jets pummeled the ISIS-held city of Raqqa with at least 20 bombs, according to the French defence ministry. The jets hit a command and control center, jihadi recruitment center, munitions depot and a training camp.
"Pitiless war": Illegal French airstrikes on Syria hit stadium, museum, clinics
#FalseFlag #France #ParisAttacks
Website Comment: Hooray, we have France and their French Planes and bombs targeting Syria? NO, again we have American Planes, bombs and our pilots under the guise of being; "French" targeting Syria. But all this is a JOKE because The Paris "terror attack" was faked in the first place; look at the images below:
Why the bloody drag marks? Victims shot outside, placed and dragged back inside?
Why was there an "mass shooting" "exercise" started 2 hours before the event? I smell another 9/11 and 7/7 (which both had exercises prior to those events).
Where are images of the gunshot wounds from AK-47's? Where are images of the bombast victims? Where are images of people with burnt, shredded flesh and/or amputations?
It's obviously another American "false flag" when the "crying girl" is in the mix.
Photo locations: Paris, Sandy Hook, Boston Bombing, Denver Theater Shooting.
Question what the false governments and fake news are feeding you; question everything. Your about to be taken out by governments who have been living off YOUR money for YOUR lifetime. Don't be their victim.
(61 Views)
Random Quote
A single grateful thought toward heaven is the most perfect prayer.
Translate this page using the Google translate tool